I have found a great and simple Newsletter Tab on PrestaShop forum, however the author have not changed anything for couple years and adding tab like that was a pain in a neck so I have created a module to do this automatically and cleared some features of that admin tab.
Module features:
Send emails to your PrestaShop customers
Send newsletter email on their birthday
You can use variables for your emails to make it more personal: %FIRSTNAME% – %LASTNAME% – %MAIL%
Works good with your server because there is an ability to add delay on sending emails
You get a detailed information about the process when it is finished
You can check all checkboxes and the script will automatically filter duplicate emails.
Here is a screenshot: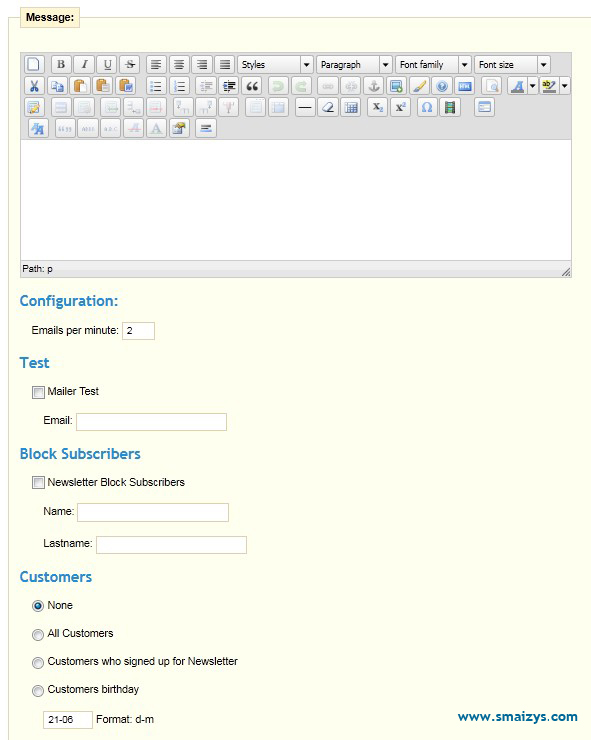 Download: Newsletter Tab Module for PrestaShop 1.4.4 v1.1
UPDATE v1.1: 2011-06-22:
Added automatic translastions to the admin tab class
Added ability to choose parent tab for your Newsletter tab
fixed some mistakes
UPDATE v1.1: 2011-06-29
Mistakes regarding configuration and parent tab selecting form for 1.4.3 were fixed.
UPDATE v1.1: 2011-08-15
Deleted some unnecessary functions for better and easier installation.
Tested and works fine with versions 1.4.3 and 1.4.4.
Download: Newsletter Tab Module for PrestaShop 1.4.4 v1.1
Leave feedback and comments if you want more functionality or have problems.