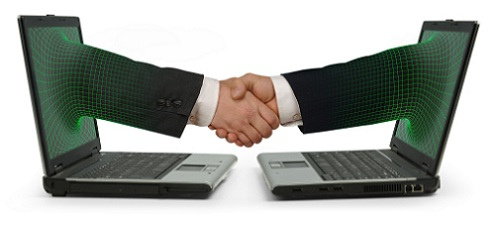 While the New Year has passed quite a long time ago, we can still make some predictions about this years ecommerce trends and possibilities. It is no secret that ecommerce is becoming more used and popular worldwide. You will agree that it would be difficult to find people who have not  tried to buy at least one or another product online.
Here's  a few interesting facts from 2012:
80% of B2B companies have invested in ecommerce and a variety of platforms over the last year
77% of small and medium-sized businesses are using social media
48% of the consumers in one way or another is bound to at least one brand or company in social networks
20.7 billion U.S. dollars have been spent using mobile technology (especially strongly influenced by the tablets)
Many online sources suggest that the use of mobile apps in 2013 will inevitably be a priority in ecommerce. It is already apparent in the figures presented earlier. Ecommerce as well as the whole Internet is slowly moving to smart devices. In addition, computer technology giants such as Microsoft say that we will have more users on mobile devices over conventional PCs  in 2014. Here, however, the possibility is not limited specifically to created mobile applications, do not forget HTML5 and CSS3 offered opportunities to create responsive designs which can be used for both PCs and mobiles.
Applications for mobile devices are not the only aspect where shop owners will have to pay attention. Forbes strongly suggests that testing (although the level of one or another is done today too) is simply a necessary and integral part of the success of the business and is required to be done not only by the largest companies owning the largest stores, but also small ones too. Available statistics, processed information, the testing of user interfaces and conversions etc. will be an integral part of the business for all market players, without any exception.
However, testing will not be the only measure according to the Forbes, more and more attention will be paid to the commerce personalization. All of this can be linked to the already mentioned information on the statistics gathering and ability to use their acquired knowledge about customers. Personalization is not the only thing – loyalty programs are essentially a part of ecommerce too. Loyalty programs will gain a whole new face in the coming years.
It is  also suggested that commerce will not be limited only to business-to-customer basis, more attention will be given to business-to-business sales. The majority of companies in one way or another already invest in ecommerce platforms, which promises only more business-to-business expansion. This may also suggest an idea that the market is still in lack of wholesalers who are able to properly exploit the commercial opportunities on the Internet.
Moreover store's success depends on how quickly the client will receive ordered goods and products. We can see some new interesting trends in this market, for example, Walmart and eBay are already testing same-day delivery in major U.S. cities. Would not it be nice to have the products in your hands at the same day or in couple hours of buying them? I think that's quite a step into really better ecommerce for daily customers. And while this is happening at the moment it would mean that there should not be restrictions on international shipping anymore.
We should not forget the fact that ecommerce is no longer a youngster. Furthermore, some online stores are already morally and technically outdated and they need to at least redesign in order to meet Web 2.0 demands and trends. And it is worth to keep in mind that the store is not a one-day or month project and requires constant improvements from the beginning.
Moreover,  it is said that more attention should be paid to the content itself when talking about updating websites. There're some talks that new SEO techniques will be mainly concentrated on high quality content, which basically should also be concentrated on video presentations or videos. One of the 2013 predictions is that customers are tired of reading boring descriptions and video can be the best  way to convey the brand and functionality of products.
To sum up, it is said that commerce continues to grow and becomes even closer to us by expanding more and more to mobile devices; shop owners have to pay more attention to information and statistics, and its proper use, otherwise the possibility of failure will be unavoidable.  Customers will definitely enjoy improvements in delivery and user-friendly designs not only on new eshops, but on those renewed too.